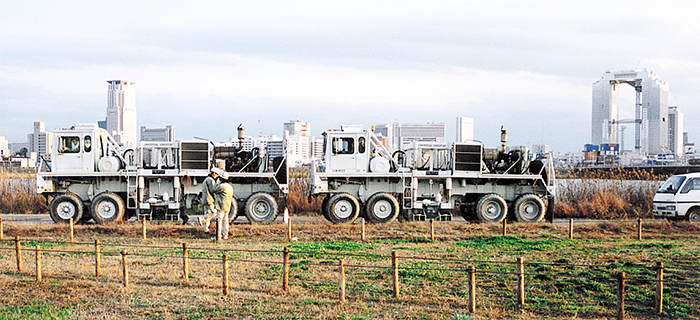 Company Overview
Company Name :

Hanshin Consultants Co., Ltd.
Historical Review

Hanshin Consultants was settled at Ashiya City (near Osaka City in Western Japan) in 1966, as a consulting company to dedicate its Civil Engineering and Geotechnical ability to the construction and electric power industry.
Since then, we have expanded our activity to the area of Earthquake, Volcanic, Geological Disaster Prevention and Environmental Evaluation.
Recently, we are challenging to apply the advanced Geophysical and Geological technology developed in the worldwide Oil/Gas exploration to the Engineering field.
Head Office

1-3-20 Tosabori, Nishi-Ku, Osaka 550-0001, JAPAN
TEL: +81-6-6743-4201, FAX: +81-6-6743-4202
WebSite: http://www.hanshin-consul.co.jp
Capital

¥67,500,000 Japanese Yen
President & CEO

Takenobu Tanaka
Numbers of Employees

64 as of June, 2023
Major Business

Geotechnical Evaluation and Design for Road, Bridge, Tunnel and related Construction in Civil Engineering Field.
Geophysical and Geological Investigation for Civil Engineering, Earthquake/ Volcanic/ Geological Disaster Prevention.
Geophysical and Geological Exploration for Natural Resources.
Environmental Evaluation.
Seismic Reflection and Refraction Method, Shallow to Deeper.
Vertical Seismic Profiling (VSP) with Multi-Level and Multi-Offset
Integrated Geophysical and Geological Interpretation